Smoothie Diet Official Guide: How to Lose Weight with Delicious Smoothies
Welcome to the official website of the 21-Day Smoothie Diet! I'm Drew Sgoutas, a certified health coach, nutrition expert, and creator of The Smoothie Diet weight loss program.
After spending over 10 years coaching hundreds of clients, something became clear to me. Most people are totally confused when it comes to healthy eating. And I get it! A lot of diet advice contradicts itself.
But eating healthy doesn't have to be complicated. The secret is pretty simple. Eat more healthy whole foods and ditch the fake processed stuff. I knew that to get my clients to do that, I needed to make meal prep as simple as possible. That's where the smoothies came in.
I started creating weight loss smoothie recipes for my clients, and they worked like a charm. Their weight dropped, their energy soared, their immunity improved, and they started craving healthy foods instead of the garbage.
My clients were getting amazing results! So much so that I decided to make the program available to anyone looking to lose weight and get healthy. This page covers anything and everything you could possibly want to know about the Smoothie Diet, direct from the source…me! 🙂
Drew Sgoutas, Certified Health Coach & Creator of the Smoothie Diet
What is the 21-Day Smoothie Diet?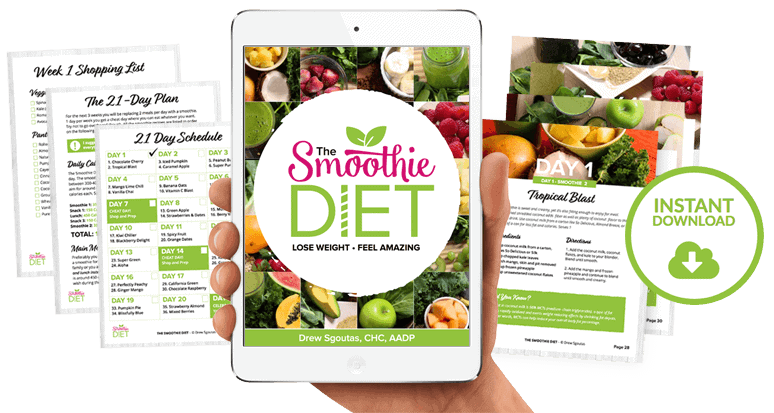 The Smoothie Diet is a proven weight loss program that helps you lose weight and get healthy in the easiest, fastest way possible. How? Well, it's pretty simple. For 21 days, you swap two of your meals for delicious meal replacement smoothies.
These aren't your ordinary smoothies! Each recipe is carefully crafted with ingredients I've meticulously researched that promote rapid fat loss.
Plus, the recipes taste amazing! No more pinching your nose choking down bland diet foods. These healthy smoothies will leave you looking forward to your next meal. In fact, many even taste like dessert! Recipes like my chocolate cherry smoothie will fool you into thinking you're indulging in a rich chocolate milkshake.
Speaking of the smoothies, let's clear one thing up. While the name may be deceptive, the Smoothie Diet is not an ALL smoothie diet! In addition to the two meal replacement smoothies, you'll also be eating one solid meal and two healthy snacks.
A huge part of why the program works is its focus on eating natural, whole foods. Research shows that the food additives and preservatives that run rampant in processed food contribute to obesity. Taking a break from those harmful foods for 21 days allows your body to hit the reset button on your weight and overall health.
"I am happy to report that I am on my last day today and am feeling like a different person altogether. Thank you for this amazing program! It has now become a lifestyle which I am going to stick with." –Carin Shaw
The program delivers everything your body needs to support healthy weight loss…and feel amazing along the way! Each smoothie recipe satisfies you with plenty of healthy fats, complex carbohydrates, and protein. You'll be eating loads of antioxidant-rich fruits and veggies (especially leafy greens) — flooding your body with the nutrients needed to slim down.
Let's dig in some more into the shining stars of this program: the smoothies, of course!
Why Healthy Smoothies Are Ideal for Weight Loss (and Improving Your Overall Health)
Looking for a simple, fast, delicious meal that gives fantastic weight loss results? Smoothies are your answer. Here's why:
The Magic of Fiber
Fiber is a type of carbohydrate that your body can't digest. It helps your body feel full, so you're less likely to overeat in the first place! Fiber also prevents those nasty blood sugar spikes that can cause sugar cravings. Plus, fiber keeps your gut bacteria happy. This is extremely important since over 70% of your immune system is found in your gut!
The trouble is only about 5% of the population gets enough fiber. And with the current low-carb keto craze, the fiber epidemic keeps getting worse. This is scary news considering that low-fiber diets are linked with chronic illnesses like diabetes, heart disease, and obesity.
Smoothies change all that. Because they're loaded with fresh fruits and veggies, they're fiber powerhouses. This is great news, as research shows fiber helps you lose belly fat. Yes, that's right. You can eat carbs and lose weight. You just have to eat the right ones.
Smoothies Cut Your Sugar Cravings
The fruit in smoothies is a healthy way to satisfy your sweet tooth. While fruit does contain some natural sugar, it also packs a wallop of fiber, which helps your blood sugar stay in check. Fiber slows the release of glucose into your blood. That's why eating an orange is not the same as drinking a soda…or a glass of orange juice! Fiber makes all the difference.
Plus, swapping out unhealthy choices like fast foods and processed foods in favor of smoothies allows your tastebuds to reset. Once you detox from the unhealthy garbage, you actually start craving healthy foods!
"I am loving this diet! I'm never feeling hungry, just healthy! I haven't had bread, sugar, or dairy since I started and I am not missing it." –Julie H.
On-the-Go Way to Incorporate Healthy Lifestyle Habits
Life is busy. I get it. You want to eat a healthy diet and lose weight, but don't want to toil away in the kitchen for hours on end. That's why weight loss smoothies are the solution.
In just five minutes flat you can toss a few ingredients in your blender, press a button, and BOOM! You've got a healthy, delicious fat-burning meal designed to keep you fueled throughout your day. What could be easier?
"This is the first time I didn't feel like I was on a diet. The best advantage in this program is the easy to make smoothies, saving my time." –Dr. M. Alahmadi
How Does the Smoothie Diet Work? Features You Need to Know
Let's break down the three key components to the program:
3-Day Smoothie Detox
This optional detox plan is an easy way to see quick weight loss right from the get-go. It clears out the cobwebs to prepare your body for the complete program. For three days, you'll enjoy meal replacement smoothies for your three main meals, along with two healthy snacks in between.
You get two meal plan options so you can customize the detox to your needs. You can use this smoothie detox anytime you've fallen off the wagon and need a healthy reset — like after the holidays or a vacation.
"I have just finished the 3-day detox and omg I'm sooo happy with my results! Believe it or not, I almost lost 8-9 pounds! -Theresa V.
"I finished my three-day detox strong and lost a total of 6 pounds and 2 inches around my waist! The detox has already boosted my self-esteem and self-discipline." -Haidee
21-Day Smoothie Diet Program
This rapid results three-week diet plan is designed to take the guesswork out of losing weight in a healthy, sustainable way. This is NOT just a bunch of random smoothies recipes. It's a carefully organized 21-Day plan that sets you up for weight loss success. Everything is laid out for you day by day, including:
36 Delicious healthy smoothie recipes, jam-packed with specially formulated, nutrient-dense ingredients designed to melt away stubborn body fat
Healthy low-calorie solid meal & snack ideas to help you stay on track
Shopping lists for each week make it simple to set yourself up for success
Weekly schedules make it easy to stay organized
Smoothie tips & prep guide helps you make smoothies like a pro every time
Post-program tips to solidify your new healthy eating habits
"I lost TEN pounds in my first week. I'm both thrilled and flabbergasted. I happen to be a nurse, so nutritionally the plan makes me happy and the ease of running out the door with my smoothie in hand is amazing." -Leah H.
Quick Start Guide
If you're itching to get started right away, the quick start guide gives you all the basics you need. It has all the smoothie recipes, schedules, and shopping lists all in one convenient place. That way you can just print it out and head to the store without having to read the longer core guide.
This condensed version of the core guide serves as a fast-track "to-do" list. That means you can start enjoying the benefits of this program from the instant you download it!
"Best program I have tried! Easy recipes, everything needed is easy to find in your packet — I have lost 4 pounds already! -Allison H.
How the Smoothie Diet Helps You Lose Weight
There's a lot of diet advice out there that contradicts each other. No wonder weight loss seems so confusing. But really, losing weight comes down to a simple science of calories in and calories out. However, the quality of those calories counts too.
Calorie Deficit
The secret to weight loss success is creating a calorie deficit. A calorie deficit simply means you're burning more calories than you're taking in. Sounds simple right? The problem is most people aren't aware of:
What their calorie intake is on any given day
How many calories they need to support weight loss
This is exactly why many dietary plans obsess over counting calories.
But mealtimes do not have to be math class. The smoothie diet meal plan supplies roughly 1,500 daily calories. After coaching clients for many years, I've found this is the best starting calorie range for most people looking to lose weight.
However, some people may need a little less than 1,500 calories to support weight loss — or a little more. Don't worry. I show you how to modify the plan to fit your calorie needs.
Not All Calories are Created Equal
Just because a food is low in calories doesn't mean it's ideal for weight loss. Five hundred calories of processed food are NOT the same as 500 calories of whole foods. Processed foods are packed with artificial sweeteners and harmful chemicals linked with obesity. Plus, eating them long-term can lead to nutritional deficiencies.
On the flip side, eating a whole foods diet gives your body the antioxidants, vitamins, and minerals it needs to support rapid weight loss and boost your overall health.
"This diet plan is exactly what I needed. It's been many years since I've been this weight, and it feels amazing. I feel more energetic, have slept better, and am less bloated. I will be 47 years old in June and am actually excited for summer this year." –Marcela T.
Want a Glimpse at the Recipes? Here's the Super Green Smoothie
Here's a sneak peek at one of the recipes to show the powerful nutritional punch smoothies can deliver:
Ingredients
1 cup/8 oz unsweetened almond milk
1 tbsp ground flax seeds
¼ avocado
1 handful spinach
1 banana chopped and frozen
1 kiwi
1 inch fresh ginger, grated
Directions
Add the almond milk, flax seeds, and avocado to your blender. Blend for 10 seconds.
Add the spinach, banana, kiwi, and ginger and blend until smooth.
Health Benefits of the Smoothie Diet
Because this program centers around nutrient-dense whole foods, it offers a bevy of health benefits, including:
Increases Nutrient Intake
Most health experts recommend at least five servings of fruits and veggies a day. Yet only 1 in 10 people manage to reach that goal. Maybe you're one of them? I get it. Life is busy. Who has time to graze on pounds of produce?
The Smoothie Diet changes all that. Your two daily meal replacement smoothies are loaded with fruits and veggies, making it easy to crush that five-a-day goal. And that's not even counting your solid meal and two healthy snacks!
Detoxifies Body
Processed food is packed with harmful chemicals and additives that overwhelm your body's detox system. Taking a three-week breather from these fake foods allows your body to hit the reset button.
When your body's no longer overloaded with toxins, new energy is available for healing, repair, and yes…weight loss!
Improves Skin
Beautiful skin comes from the inside out. Upgrading your nutrient intake with plenty of fruits and veggies is far more effective than slathering on expensive creams.
All the smoothie recipes in this meal plan are bursting with antioxidant-rich ingredients like blueberries that promote natural beauty and have anti-aging effects. Fruits and veggies are also rich in nutrients needed for collagen production, promoting smooth, supple skin.
"I feel lighter, healthier, and more energetic! My skin is glowing and my hair is shiny." -Mariam B.
Boost Energy Levels
Looking for an energy boost? Smoothies are your answer. Digestion uses up between 5-15% of your body's energy. So why not make your blender do the hard work for you?
Drinking smoothies with blended fruits and veggies deliver a high amount of nutrition in an easily digestible form — so you have more available energy!
"I want to say thank you soooo much for creating such a wonderful diet plan that not only tastes so delicious but also makes you feel your best! I feel so much more energetic and lightweight since I started this plan." –Amina P.
Improves Immunity
The smoothie diet program increases your fruit and veggie intake big time. Research shows us that people who eat a diet rich in fruits and vegetables have improved immune function and less risk of chronic illness.
Plus, all of the Smoothie Diet recipes are nutrient-dense, supplying you with the antioxidants needed to support a healthy immune system.
Breaks Addiction to Junk Food
Fast food and processed food contain harmful chemicals that can sabotage your weight and your overall health. These foods are designed to be addictive, so even if you have the best of intentions, it's easy to fall off the wagon.
The smoothie diet gives your body a much-needed breather from junk food. For three whole weeks, you'll be flooding your body with nutrients and resetting your tastebuds all at once. Day by day, you start craving healthy foods, instead of the garbage!
Kickstarts Healthy Eating Patterns
Spending 21 days sipping delicious smoothies and noshing on healthy whole foods transforms your habits. I get emails every day from clients who tell me the program kicked their sugar cravings to the curb. Instead, they get hooked on healthy food! Many keep up their daily smoothie habit well after the 21 days are over.
"I started week 3 today and I've lost 9 pounds already in the first two weeks. I am blown away. I wish I had found this program sooner. It's truly helping me change my life in a meaningful way. I am super grateful! -Faith T.
Improves Gut Health
The smoothie diet is high in fiber, which works wonders for your digestive system. Fiber bulks your stools and promotes healthy elimination. If you don't get enough fiber, it's easy to get backed up — which is clearly not helpful for weight loss!
Fiber also serves as food for your healthy gut bacteria. Your friendly bacteria do a lot. They help digest your food, support immunity, and even influence your weight!
Boosts Your Mood & Confidence
Excess weight can be a killer for your confidence. It can make you stay on the sidelines, shying away from social gatherings, dating, and taking risks in general. The smoothie diet helps you lose weight and keep it off. As the weight melts away, your confidence soars.
The smoothie diet's high fiber content also offers mood-boosting effects. Your gut bacteria produce about 95% of your body's "feel-good" neurotransmitter serotonin. So, if you want an all-natural mood boost, keep your friendly bacteria well-fed with fiber-rich foods.
Helps You Sleep Better
The smoothie diet is filled with ingredients like spinach, banana, and avocado, which are rich sources of magnesium. Magnesium is a stress-busting mineral that induces relaxation and promotes restful sleep.
"I gotta say, I love this diet. I actually don't feel like I'm dieting at all. I'm sleeping better. I have more energy. I am feeling like myself again." -Cynthia B.
Rapid Weight Loss
This rapid results three-week program is designed for dramatic weight loss. The science behind the program will work for ANYONE. As I've said before, the Smoothie Diet is brimming with fiber-rich fruits and veggies. Upping your fiber intake helps your body stay satiated and feel full longer.
Plus, each meal replacement smoothie is specially formulated with nutrient-dense ingredients that melt away stubborn body fat. Not to mention the recipes are delicious, so you'll actually look forward to your meals, and never feel like you're missing out.
"I'm on my 11th day of the smoothie diet and I'm down 7 pounds. I'm really excited to keep going. I've been trying to lose weight for over a year and I've tried a lot of different diets but have not been able to see any results until now." -Mireya M.
What Makes the Smoothie Diet Program Unique?
Let's break down what sets this weight loss plan apart from the rest:
Healthy Lifestyle Makeover
While this plan was designed to support weight loss, it does so much more than that. This is not some quick-fix weight loss program where you go straight back to your old unhealthy ways. This program is essentially a healthy lifestyle makeover.
Visit any nutritionist or dietician, and they'll tell you to steer clear of processed foods and focus on whole foods, especially fruits and veggies. The smoothie diet gives you 21 days to do just that! By the end of the three weeks, healthy eating will be your new habit! When that happens, maintaining a healthy weight comes almost effortlessly.
Shannon Quinn Dunlop from Utah is recommending the Smoothie Diet to her patients!
"I am a family nurse practitioner. I have never found something I love as much as your smoothie plan. I just weighed in this morning and am down 9 pounds. I just think this plan you have created is life-altering. These smoothies are so incredible, and it is definitely a plan you could follow indefinitely. It's so incredible to see the pounds drop off, but the bigger issue is how it's decreasing your risk of cancer, cardiovascular disease, and diabetes. I can't wait to start recommending the plan to my patients. I am losing weight and never felt better. Thank you so very much! -Shannon Quinn Dunlop, FNP RN
Flexibility
I've done everything in my power to make this program as flexible as possible, so you can make it work for your lifestyle. You get to choose when to enjoy your two meal replacement smoothies and when to have your solid meal for starters. That way, if you want to enjoy dinner with your family, you can! Meeting a friend for lunch? Simply have your second smoothie for dinner.
One day a week is a designated "cheat day" where you can eat whatever you like. Obviously, for best results, you'll want to choose healthy foods. But knowing you have some wiggle room once a week can help you stay motivated and stick to the plan.
I also included optional "flex days" for people who may need to ease slowly into the program. On flex days, you replace one of your meals with a smoothie rather than two. This helps you warm-up for the full program, so it doesn't feel like some giant leap.
Got a food allergy? Or afraid you won't be a fan of certain ingredients? I've got you covered. The plan offers a shopping swap guide in case an ingredient doesn't work for you.
No Calorie Counting
Many diet plans have you counting calories, tracking points, or obsessing over carbs. All of this is exhausting and sucks the joy out of food. Who wants to solve math equations every time they have a meal?
With the Smoothie Diet, I've done the math for you. Each day is designed to supply you with roughly 1,500 calories, the sweet spot for most people to support weight loss. You simply have to stick to the meal plan and watch the weight fall away.
"We have started our life change to healthy eating thanks to you. It's made eating healthy easy! It takes the guesswork out of the equation of calorie counting." -Belinda H.
Focus is Nutrition, Not Deprivation
Most diet plans leave you feeling like you're missing out on something. This program is not about making any food the bad guy. It's about nourishing your body with nutrient-dense foods that supply the vitamins and minerals needed to support healthy weight loss.
Convenience
Healthy eating doesn't have to involve hours of meal prep and feeling like a prisoner in your kitchen. Who's got time for that? The smoothie diet keeps things simple. You toss a few ingredients in your blender, press a button, and voila! You've got a healthy, balanced on-the-go meal. What could be easier?
"I feel great and it's only been a few days! I feel less bloated and have lost 3 pounds already! The smoothies are easy to make and making them doesn't take too much of my time which was one of my concerns. This lifestyle change is what I needed!" -Shyette O.
Backed by a Real Person
The Smoothie Diet is backed by a real person (that's me…Drew 🙂), NOT some faceless corporation. Helping people get healthy has been my mission for over ten years.
I want every person who tries the Smoothie Diet to succeed. So I provide tons of ongoing email support to help you do just that. If you ever have a question, feel stuck, or simply need support, you just have to reach out, and I'm there. This official website includes a blog with helpful tips to ensure your new healthy lifestyle habits stick.
How Does the Smoothie Diet Compare to Other Weight Loss Plans?
Let's explore how the Smoothie Diet stacks up against some popular weight loss programs:
The Smoothie Diet vs. Keto
The ketogenic diet (aka the keto diet) is high in fat and extremely low in carbs. The goal of the keto diet is to enter ketosis, the state where your body burns fat for fuel instead of carbs.
The trouble is this diet is not sustainable for most people long-term for many reasons. For starters, the extreme carb restriction can cause side effects like fatigue, nausea, and sleep issues, known as the "keto flu." The keto diet's focus on fats makes it tricky to get enough fiber, which can cause constipation. This diet can also change the water and mineral balance in your body, leading to electrolyte issues.
While the Smoothie Diet does supply you with healthy fats, it doesn't go overboard. Complex carbohydrates are encouraged on the program instead of villainized. Both programs support rapid weight loss, but the Smoothie Diet does so in a more comfortable, sustainable way.
"Well, I've been on the smoothie diet for 9 days and I've already lost 9 pounds…I'm so happy I could dance. I feel healthier, sleep better, and look better. I cannot tell you just how amazing I feel. I've tried a few diets, but nothing compared hands down. Thank you! -Suzy K.
The Smoothie Diet vs. Noom
Noom, a new diet plan on the scene, is a subscription-based weight loss app. It uses psychology to build healthy eating habits. You can log your meals, exercise, and even get feedback from health coaches. Unlike many other diet programs, no foods are off-limits.
The main drawback of Noom is the cost. At $59/month, the program is pricey. Especially if it takes you several months to reach your goals. Plus, having no off-limits foods makes it less likely users will nix junk foods which means they may fall back into unhealthy habits.
The entire smoothie diet program costs less than a one-month Noom subscription. Like Noom, it fosters healthy eating habits but does so by focusing on replacement smoothies and nourishing whole foods.
The Smoothie Diet vs. Weight Watchers
On Weight Watchers you keep track of points instead of tracking your daily calorie intake. Every food is assigned a point value, and each day you get a set number of points to encourage weight loss. No foods are off-limits are long as you stick to your point limit. Weight Watchers offers plenty of support with weekly meetings too, which typically involve weigh-ins.
As I've said before, there's no math involved in the Smoothie Diet. No counting calories. Or points. The weight loss smoothies and healthy whole foods you'll be noshing on are naturally low in calories. So, you can just enjoy your meals without obsessing over them. The smoothie diet offers plenty of support throughout the program, minus the embarrassment and hassle of weekly weigh-ins.
The Smoothie Diet vs. Atkins
Atkins is another low-carb diet that's heavy on protein and fat. It's basically a less extreme version of keto. The goal is to increase your protein intake to reduce your appetite so you eat fewer calories.
The trouble is meat and eggs have zero fiber. Limiting fiber-rich foods can lead to nutritional deficiencies and cause constipation. Plus, demonizing entire food groups can cause an unhealthy relationship with food.
The smoothie diet doesn't make any food group the bad guy, including carbs. Your body needs carbohydrates to supply energy, feed your gut bacteria, and perform many other functions. This program provides you with all three macronutrients: protein, healthy fats, and yes…carbs!
Who is the Smoothie Diet For?
Since the program's focus is on healthy, whole foods, it can work for everyone! Swaps are suggested for people with food allergies, and the plan is easily adaptable if your body needs more protein.
That being said, if you have pre-existing medical conditions, always check with your doctor before changing your diet. Especially if you have diabetes, as certain fruits may spike your blood sugar.
If you're pregnant, it's not a good time to be going on a diet unless you're gaining more weight than you should. In those cases, you could replace just one meal with a smoothie while still making sure you're getting plenty of calories throughout the day. Always speak with your ob-gyn before making any changes.
Busting Common Smoothie Diet Myths
As the program's grown in popularity, there are a lot of distorted myths floating around out there. Let's clear them up:
Myth #1: It's an ALL Smoothie Diet
I know the name suggests this, but this program is NOT an all smoothie diet. Yes, you will replace two of your daily meals with tasty weight loss smoothies. However, you'll eat plenty of solid foods too — one meal and two low-calorie snacks, to be exact. So, some chewing is required. 😉
Myth #2: It's Restrictive
Unlike many diet plans, on the Smoothie Diet, you won't have to cut out entire food groups — other than fake chemical-filled processed foods, of course. Yes, your daily caloric intake will be cut down to 1,500 calories. But since those calories all come from nourishing high-fiber foods that promote satiety, you'll feel satisfied.
Myth #3: Fruit Has Too Much Sugar
Somehow in the low-carb craze, fruit got thrown under the bus. People started fearing fruit, thinking it had too many carbs and would cause weight gain. However, research tells us just the opposite. People that eat more fruit lose more weight.
Yes, fruit does have some sugar. But the sugar in fruit is NOT the same as the sugar in a can of soda. You'd need to eat five apples to match the sugar in one can of soda!
Fruit is also packed with immune-boosting vitamins and minerals and includes a hefty dose of fiber, which helps prevent nasty blood sugar spikes. One study even found that people who ate more fruit were less likely to develop diabetes.
Myth #4: It's Not Enough Protein
Your protein needs will all depend on how active you are. As a rule, I tell most people to aim for around 50 grams of protein a day. If you work out regularly, you'll likely need more.
But you don't have to rely on protein shakes to get your fill of protein. A four-ounce serving of chicken breast has 35 grams of protein. So, if you include some lean protein with your solid meal and snacks, you can easily meet your protein needs.
If you find your body needs more protein, you can add in a scoop of protein powder, almond butter, peanut butter, or chia to your smoothies for an extra boost. Just don't overdo it.
Myth #5: This Must Be a Scam
When it comes to dieting, it's easy to get cynical. There are a lot of fad diets and weight loss supplements out there promising miracles that fail to deliver. This program is not one of them.
The smoothie diet is backed by solid nutritional science — and the program's results speak for themselves. Over 20,000 people worldwide have lost weight and changed their lives with the program. This program can work for anyone. I even offer a 60-day money-back guarantee, so there's zero risk.
"I am feeling amazing. I have so much energy. I feel like I am respecting my body by fueling it with fruits and vegetables. I never want to go back to what I was doing before. Thank you so much for creating this program and making it affordable." -Katie M.
Pros and Cons of Trying Out the Smoothie Diet Plan
Smoothie Diet Pros
Easy-to-follow system
No calorie counting required
Provides rapid weight loss in less than a month
Delicious, healthy meals that are simple to prepare
Delivers loads of health benefits
Can be repeated anytime you need a reboot
Flexibility
Inexpensive
Downloadable, so you can access it anywhere
60-Day risk-free guarantee
Smoothie Diet Cons
It's not a magic pill; you have to follow the program and stick to it
It's entirely digital, so if you're old school you'll have to print it out
You may have to buy a new wardrobe 😜
The Smoothie Diet Review: is the 21-Day Smoothie Diet Effective?
I get emails every day from people telling me how the Smoothie Diet helped them lose weight and transform their eating habits. Right now, the program has over 50,000 satisfied customers and counting. Here's one of them:
"Hi, I started the Smoothie Diet this year weighing 230 lbs. After 21 days I lost 17 pounds. I was so excited I didn't stop. I continued the cycle again until I hit my dream weight of 165 lbs. I'm happy and proud to say I achieved my dream weight. All of my friends are doing the Smoothie Diet now too. I don't think I'll stop. I love my smoothies! Thank you!" -Mia Kwong
Frequently Asked Questions
Do I need to completely give up on my previous diet?
If your previous diet contains fast food or processed food, then yes, you'll give that up for 21 days. However, this isn't a restrictive diet where you're dropping entire food groups. After eating natural, whole foods for three weeks, most people find that they don't miss the junk. If 21 days sounds overwhelming, I also offer a FREE 5-Day green smoothie challenge to give you a taste of the program.
What if I don't like some of the weight loss smoothie recipes?
All the smoothie recipes include leafy greens. If some of the greens are too strong for you, simply make a note to use a different green next time. I provide a list of all the leafy greens and which ones have a more subtle taste. You can also add a date or a teaspoon of honey if you need some extra sweetness.
Can I use the Smoothie Diet after 21 days?
Yes! You can repeat this program as many times as you need to until you reach your goal weight. If you still have more weight to lose after the 21 days, spend the next week only replacing your breakfast with a favorite smoothie. You can restart the program the following week. One of my clients did this and has lost 70 pounds!
Does the Smoothie Diet produce lasting results?
I get this question all the time. "But Drew, won't I just gain the weight right back?" Well, it depends. If on day 22 you start heading to the drive-thru for every meal, then yes. The program isn't some magic fairy dust.
However, most people find that's not the case. This program isn't some fad diet you quickly abandon. It becomes a way of life. Most people find their sugar cravings drastically reduced by week two. And many people feel so good after the 21 days; they want to keep going