Do Smoothies Count as a Meal Replacement? (With Recipes)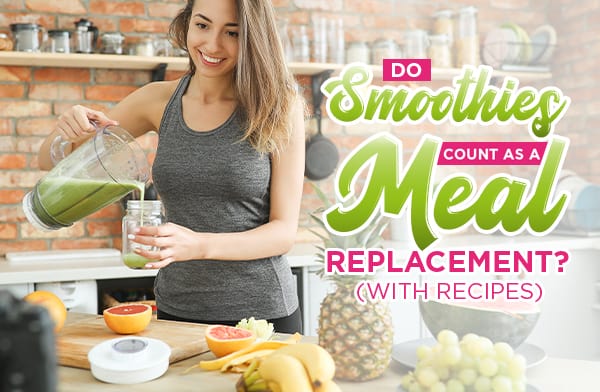 Smoothies can be great as a meal replacement, but they can fall into several different categories. Sometimes, smoothies are so full of sugar and sweets that they're not far off from junk food. Sometimes, they taste delicious, but they're low on substance, which makes them nothing more than unhealthy snacks. Other times, they're rich, full-bodied, and nutritious enough to serve as a complete meal replacement.
Millions of people drink healthy meal replacement smoothies every day. Some of those people are very healthy, while others try but never seem to lose any weight or feel better afterward. Their recipes, portions, and macros are all very different.
So what gives? Can a smoothie replace an entire meal?
Let's start by discussing the nutrients required for a smoothie to be considered a meal replacement.
What Makes a Smoothie a Good Meal Replacement?
A smoothie can be a poor attempt at weight loss that leads to weight gain and indulging in ineffective snacks that don't satisfy your hunger. Or, they can be a complete meal replacement that leaves you full for hours and helps with weight loss and a healthier lifestyle. It all depends on the ingredients in the smoothie.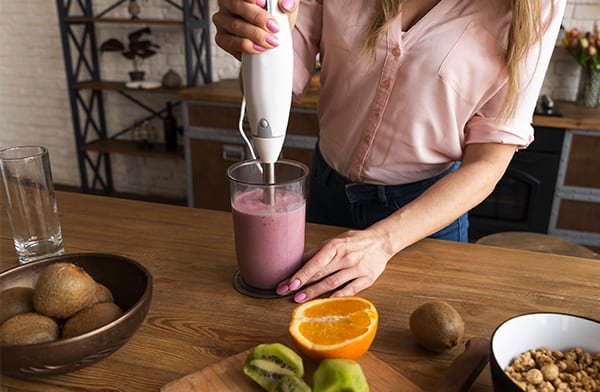 To understand the composition of a smoothie as a meal replacement, you need to understand macronutrients.
Does It Have The Right Macronutrients?
Macronutrients are broad categories of nutrients, and there are three of them: carbohydrates, fats, and proteins. Everything you eat falls into one of these three categories. All of these need to be in balance so your body can survive and thrive.
A smoothie can be a meal replacement if it contains the right balance of macronutrients to provide what you would expect out of a meal.
Smoothies can provide many macronutrients, but you need to consider the whole picture of your entire diet throughout the day. You should avoid replacing every meal with a smoothie because you'll miss out on some food groups, micronutrients, vitamins, minerals, and other necessary compounds your body needs. Bodies don't do well with only a liquid diet; you need solid food for your digestive system to work correctly.
Suppose you're attempting an extreme weight loss diet. In that case, two smoothies a day (one for breakfast, one for lunch) and a whole food dinner made up of healthy ingredients (chicken or fish, vegetables, fruits) is the way to go. It helps you cut calories while still giving you the nutrients you need.
If you're going with a longer, slower, and more sustained campaign, replacing a single meal with a smoothie is fine. As long as your other meals are healthy and you come in under your caloric intake goals, you're good to go. We'll talk more about weight loss later.
Are The Nutrients Well-Balanced?
For a smoothie to qualify as a meal replacement rather than a snack or a treat, it needs to include ingredients that add healthy macronutrients without overloading you with sugar or processed nonsense.
You have a lot of flexibility:
Healthy fats can add body and substance to your smoothie. Remember, not all fats are bad! Fats that you can add to a smoothie include avocado, MCT oil, nut butter, and full-fat yogurts.
Your body needs protein to survive, but more than that, you need protein to fill your stomach and feel sated for longer, which helps reduce snacking and breaking your diet. Proteins can come from high-protein seeds like flax and chia, oats, dairy, nut butter, and even egg! You can also go with the simple option of a scoop of your favorite protein powder.
Carbs are generally thought of as bad for weight loss, but you do need some to keep your body fueled and healthy. Healthy sugars from fruit are a primary source of carbs, as are the fibers in vegetables and grains. You can also add some legumes if you want; lentils can be a good, neutrally-flavored option.
You also need to consider your servings of each macronutrient throughout the day. The exact balance can vary depending on your goals (speedy weight loss, slow and sustained weight loss, muscle building), so it's difficult to offer specific advice, but you can still talk to a nutritionist. You can also adjust your diet over time to match your evolving goals.
The beauty of smoothies is how you can build them around your other meals. Want a veggie-heavy dinner? Add more protein to your smoothies to balance it out. Want a high-protein meal instead? Make your smoothies heavier on fiber and healthy carbs to help sustain you throughout the day.
Is It Loaded With Sugar?
For a smoothie to function as an excellent meal replacement, you need to meet your daily macronutrient goals, but you also need to ensure that the smoothie isn't empty calories.
We often see people investing in a "smoothie diet" that isn't the smoothie diet. They make smoothies using nothing but fruit and ice, maybe with some dairy. Even worse, some people heap in sugar to make them sweeter or even buy the processed smoothies you get from stores that are packed with preservatives and other nastiness.
A good meal replacement smoothie will likely feature fruit, yes, but it'll also include plenty of vegetables and earthy ingredients like nut butter. Smoothies can focus on fruit flavors, rich nut and cocoa flavors, or green and vegetal flavors, and they can all be suitable meal replacements! You need to balance them out with healthy ingredients.
The Smoothie Diet provides you with a list of recipes and variations you can try, as well as suggestions for foods to eat throughout the rest of your day to help you lose weight, build a healthier lifestyle, and keep your goals on track.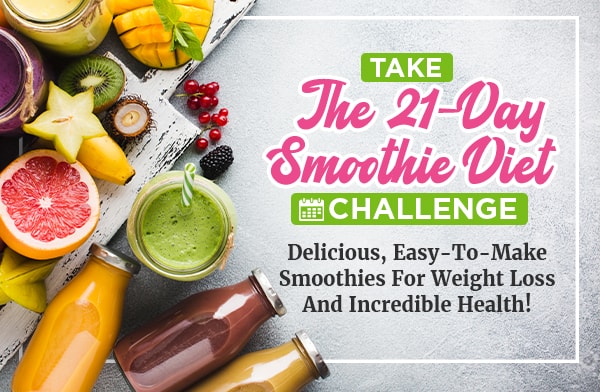 While the following samples aren't actual recipes from our program, they will give you an idea of what ingredients a meal replacement smoothie should have.
Sample Smoothie Recipes for Meal Replacements
Since you can categorize smoothies into three general sets, fruit, green, and sweet, that's how we've gathered recipes to present to you here. Let's start with green smoothies.
Green smoothies typically use a base made up of a green vegetable, typically spinach or kale, and other green ingredients. You can use supplements like spirulina, fats like avocado, and a whole host of seeds and grains to accent the substance of the smoothie. Also, green smoothies usually use fruit to give a bit of sweetness and tang to the drink, but they don't have to.
Kale Avocado Smoothie
Half an avocado, pitted and skinned.
½ Cup of kale.
1 Tbsp cacao nibs.
½ Cup Greek yogurt.
½ Cup vanilla almond milk.
½ Cup frozen mango chunks.
2 Tsp honey.
Combine all of the ingredients in a blender and blend on high until creamy and combined. The cacao nibs give you a bit of sweetness and a hint of chocolate richness. Yogurt and avocado are both excellent sources of fats, and kale provides you a lot of fiber and green vegetable goodness. Mango gives you the tropical flavor to mix and merge all of the other flavors. The frozen mango helps keep the smoothie ice cold and without watering it down with added ice.
Fruit and Veg Supergreen Smoothie
1 Apple, cored and peeled.
1 Orange, peeled and seeded.
1 cup frozen blueberries.
1 Small plum tomato.
1 Carrot, peeled.
Four cups of baby spinach.
1/4th an avocado.
8 Oz. water.
1 Scoop of protein powder.
Combine all of the ingredients in a blender and blend them on high until combined. This mixture will be a delightful smoothie with the tanginess of the berries, the citrus kick of the orange, and the earthy richness from your vegetables. It won't taste overly green. The protein powder should be unflavored for the best composition, but you can use a flavored version if you prefer. You can also replace the water with an equivalent amount of ice for a thicker smoothie, but it's unnecessary with the blueberries being frozen.
Berry Power Protein Smoothie
½ Banana, peeled (obviously)
½ Cup frozen mixed berries.
One cup unsweetened almond milk.
1 Tbsp peanut butter (natural and whole, avoid the store brands with preservatives)
1 Scoop of protein powder (chocolate or unflavored)
1 Tbsp chia seeds.
1 Handful of walnuts.
4 Ice cubes.
One dash of cinnamon.
As with all smoothies, add the ingredients to a blender and blend until smooth. Some people find that chia seeds are annoying, so you might consider blitzing them in a spice grinder first until they're closer to a powder. This smoothie will be a rich and earthy one, with just the berries to give it a sweeter and tangier kick. You can also add some turmeric, cardamom, or ginger to make the resulting drink a little spicier.
Strawberry- Banana Oatmeal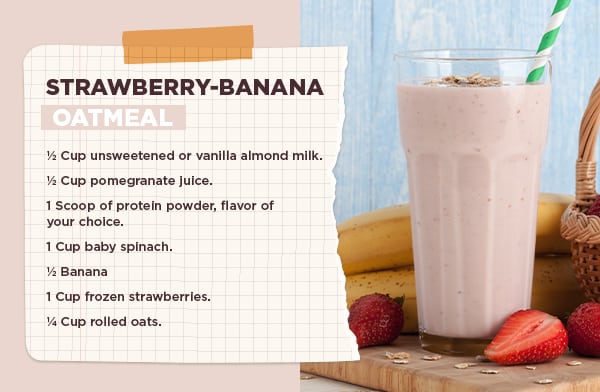 ½ Cup unsweetened or vanilla almond milk.
½ Cup pomegranate juice.
1 Scoop of protein powder with the flavor of your choice.
1 cup baby spinach.
½ Banana
1 cup frozen strawberries.
¼ Cup rolled oats.
This is another smoothie where the texture might be off-putting if you don't blitz down some of it first; oats can get gummy and weird in some situations. Everything else is relatively traditional. The pomegranate juice will give a tang and punch to the strawberry without cutting the flavor, and the spinach doesn't get in the way.
Healthy Dessert
1 cup almond milk (chocolate, vanilla, or unsweetened, they all work here.)
1 Tbsp peanut butter.
1 Ripe banana, frozen and broken into chunks.
¼ Tsp cinnamon.
1 Scoop chocolate protein powder.
5-10 ice cubes to taste for thickness.
1 Tsp honey, for more sweetness.
You can also add a bit of cocoa powder or cacao nibs to this for a more natural chocolate flavor than the semi-processed flavors you get from protein powder. This recipe is a tremendous dessert-tasting smoothie that works as an excellent, rich breakfast or lunch or can even be an evening snack if you're skipping an earlier meal. Just don't get too addicted to this one – it almost tastes like a milkshake, and it should be enjoyed once in a while as a treat!
Sunshine Smoothie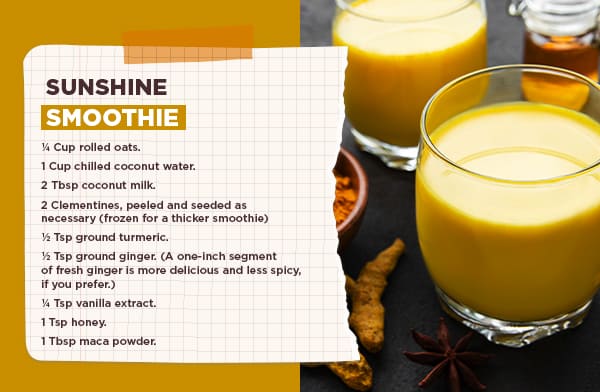 ¼ Cup rolled oats.
Add one cup of chilled coconut water.
2 Tbsp coconut milk.
2 Clementines, peeled and seeded as necessary (frozen for a thicker smoothie)
½ Tsp ground turmeric.
½ Tsp ground ginger. (A one-inch segment of fresh ginger is more delicious and less spicy if you prefer.)
¼ Tsp vanilla extract.
1 Tsp honey.
1 Tbsp maca powder.
This smoothie will be a vibrant one that combines the earthiness of turmeric, ginger, maca, and oats with the bright and tangy clementines and the tropical undertones of coconut. This one tastes like something you'd drink on a beach in the Caribbean, so what's not to love? Unless you're not a fan of coconut, there's that.
Liquid Banana Bread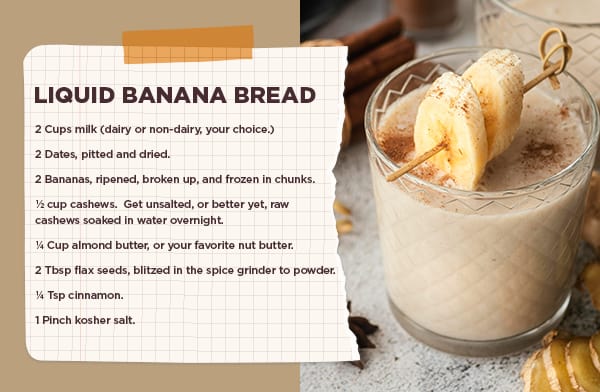 2 cups milk (dairy or non-dairy, your choice.)
2 Dates, pitted and dried.
2 Bananas, ripened, broken up, and frozen in chunks.
½ cup cashews. Get unsalted, or better yet, raw cashews soaked in water overnight.
¼ Cup almond butter. You can substitute with your favorite nut butter.
2 Tbsp flax seeds. Mix them in the spice grinder to powder.
¼ Tsp cinnamon.
1 Pinch kosher salt.
Bananas, nut butter, and spices make this smoothie taste like banana bread. If you want, you can even lightly chop some pecans or walnuts and add them afterward to give a bit of that nutty bread texture. Some people like it, others don't, so it's really up to you.
Making Your Own
Smoothies are, as we mentioned above, extremely flexible. If you want more recipes like these, you can pick up the Smoothie Diet by clicking the links all over this page. There are over 30 recipes to be found, along with variations, suggestions for other meals, and tips to help you lose weight on the smoothie diet.
If you're more into your creative process, why not make a unique recipe? As long as you follow your macros, you can't go wrong.
Which one of the recipes above is your favorite? Have you experimented with any meal replacement recipes? Please share your favorites with us in the comments section below! We'd love to hear what's working for you.