5 Ways to Eat More Kale When You Don't Like the Taste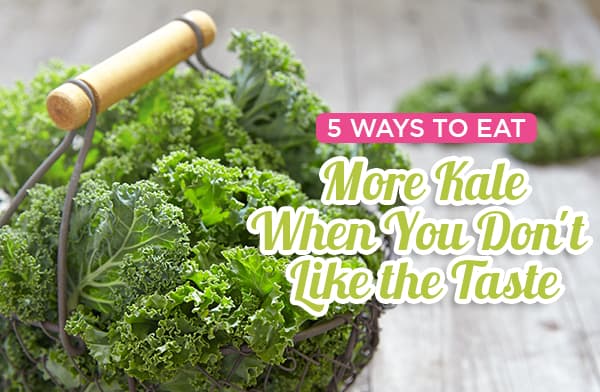 Kale is a really interesting vegetable.
On the one hand, it's extremely popular, primarily for its health benefits. It's a leafy green, a member of the brassica oleracea group, along with things like broccoli, cauliflower, cabbage, and more. It's also widely known to be one of the healthiest vegetables, ounce for ounce.
In fact, a food rating scale known as ANDI – the Aggregate Nutrient Density Index – was developed to rank foods based on their quality and nutrition. It's a 0 to 1,000 scale, with something like a can of cola at the near-0 level. Only a few foods, like kale, are a full 1,000.
ANDI has its flaws, of course; nutrient density isn't the only thing that makes a food healthy, and plenty of healthy foods rank very low; an orange, for example, is not very nutritionally dense and ranks a mere 109, but it's healthy for you in many ways.
Even so, kale has taken up the mantle as, arguably, the healthiest vegetable you can eat. As such, thousands of health gurus and bloggers point to kale as the hallmark of a good, healthy diet, especially for people shifting towards veganism. Kale has more iron than red meat, and more calcium than milk, making it a great replacement for those two foods.
The Problem with Kale
There are three problems with kale.
The first is that it's frequently contaminated, both with pesticides and with other nastiness like microbes. In fact, a few years ago, it was one of the most heavily contaminated forms of produce in the United States.
That doesn't mean kale is bad for you. It just means you might want to spend more time washing it, get it from local farms instead of mass producers, or grow it yourself.
The second is that it's not perfect for everyone. Certain compounds present in kale, when digested, are processed into other chemicals in the body. Those chemicals can, in high levels, interfere with your thyroid function. Now, granted, you have to be eating huge amounts of kale for every meal for this to happen, but it can happen.
This is, among other reasons, why I recommend rotating through several different greens on a day-to-day basis in the Smoothie Diet. Greens like spinach, arugula, bok choy, and collards don't have the same issues but are still quite healthy.
The third? Well, it's the one you're most familiar with, I would guess:
Kale just doesn't taste that great.
It's often bitter or bland.
It's tough and crunchy and often feels like eating something borderline inedible.
It's tough to enjoy on its own and can be present even with other foods.
It's kind of an open secret in health circles that kale is a little unpleasant to eat. We all suffer through it because it's so good for us, but how many of us really enjoy it? There's a reason why so many kale recipes include ingredients with pretty strong flavors.
So, I'm going to let you in on my secret recipes. These five options are all ways you can get more kale in your diet when you don't really enjoy eating kale. No salads here; we're going to hide the flavor and the texture, and get all of the benefits with none of the drawbacks.
#1: Soup
Soup is a great way to have kale because when it cooks a little bit, it ends up tasting and feeling pretty much just like any other green you would put in a soup. In fact, any soup that has a green in it can easily have that green replaced with kale. Plus, most soups have some fairly bold or dominant flavors that will override kale, especially once the kale has been cooked down a bit. Here's a sample soup recipe: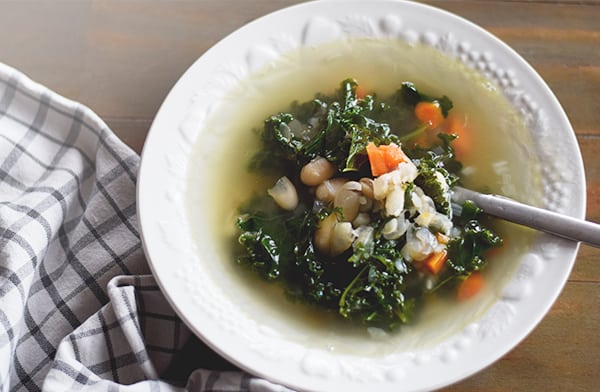 Mediterranean Kale Soup
2 Tbsp Olive Oil
1 Tbsp Butter
1 White Onion, Diced
1 Carrot, Diced
56 Oz. Roasted Tomatoes
4 Cups Vegetable Broth
30 Oz. White Beans, Drained and Rinsed
1.5 Tsp Fennel Seeds, Crushed
1 Tsp Oregano
1 Tsp Paprika
1.5 Tsp Kosher Salt
2 Bunches Kale
Parmesan or Romano Cheese, to Top
In a Dutch oven, heat the oil and butter. Saute the onion and carrots for 5-7 minutes. Add the tomatoes, broth, and beans, and bring to a simmer for 12 minutes. Add the spices and salt, and chop the kale. Don't forget to remove the stems! Add the kale and keep simmering for another 3-5 minutes. Serve hot and topped with some of the cheese.
Any soup can be flexible. Want to add sausage? Go for it. Red beans instead of white? Sure! Change up the spices? You're the boss. Make it taste however you want it to taste.
#2: Casserole
The humble casserole is a dish with near-infinite flexibility. In this case, I've got a recipe for a lasagna that uses kale as the green. It's not the healthiest meal you've ever had, but it's healthier than a lot of other casserole-style dishes, so why not give it a try? Just remember to use healthy, fresh ingredients wherever possible.
Healthy Kale Lasagna
1 Cup Red Peppers, Chopped and Roasted
.5 Tsp Oregano
28 Oz. Plum Tomatoes
.25 Tsp Sugar
1.5 Cups Mozzarella Cheese
2 Egg Whites
15 Oz. Ricotta Cheese
1 Tbsp Olive Oil
4 Large Portobello Mushrooms
1 Bunch Kale
.25 Tsp Red Pepper Flakes
2 Cloves Garlic
9 Sheets Lasagna Noodles
2 Tbsp Parsley
Set your oven to 350 degrees and prep your ingredients, including chopping and removing the stems from the kale. Puree the peppers, tomatoes, and oregano, along with the sugar and some salt and pepper, to make a tomato sauce. Mix a cup of mozzarella with the egg whites and ricotta.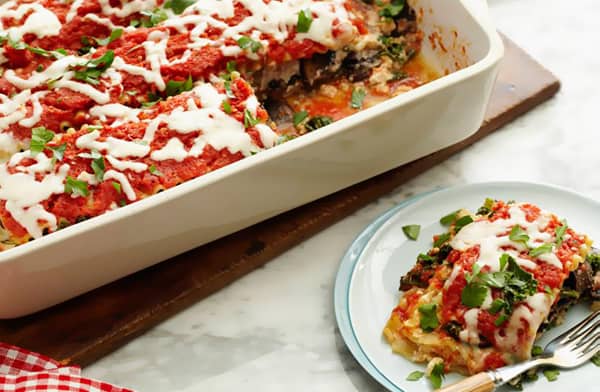 Heat the oil and add the sliced mushrooms to saute. Stir in the kale to wilt it, then add the red pepper flakes, garlic, and some salt. Grease a baking dish, then start building your lasagna. Start with a layer of sauce, then noodles, then cheese, then mushrooms, and repeat. Bake for about 50 minutes. When it's done, top it with more mozzarella and the parsley, and serve.
It's a bit of a complicated recipe, so you can get more detailed instructions from the Food Network here. And, as always, make whatever adjustments you like for flavor.
#3: Pesto
You've had pesto before, right? It's basically a sauce made out of basil, garlic, and some kind of nut or seed, with a bit of lemon and salt for additional flavor. Well, why not make a pesto out of kale? You can keep the basil in for the flavor or leave it out if you want the kale to be the central green.
Pesto is great on all kinds of things. I like it on a good bruschetta or tossed as a sauce on pasta. You can use it as a replacement for red sauce on a homemade pizza or mix it into a bowl of soup (like the one above, for twice the kale!)
Kale Pesto
.5 Cup Pumpkin Seeds
1 Clove of Garlic
.25 Cup Grated Parmesan
.25 Tsp Salt
1.5 Cups Kale, Chopped, Stems Removed
.5 Cup Basil, Chopped
2 Tbsp Lemon Juice
.5 Cup Olive Oil
Black Pepper to Taste
You need a food processor for this one. In the processor, pulse to blend up the pumpkin seeds and garlic. Then, add the cheese, pepper, and salt, and pulse again. Add the kale and lemon juice, then set the food processor running. Drizzle the oil in to fully incorporate it as the whole mixture blends up.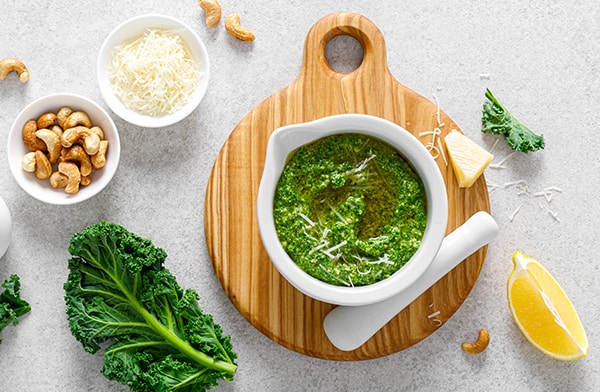 You can make a lot of changes to this recipe if you want. If the kale is too strong, add more garlic or basil. If you don't like pumpkin seeds, you can use pine nuts or walnuts instead. You can leave the basil out entirely and replace it with more kale or another green if you want. Adjust the salt, pepper, garlic, and lemon to get the right balance for your pesto.
This will make about a cup of pesto, which you can use for a few meals, or freeze for up to two months before thawing to use.
#4: Frittatas
The recipe I've used for this is a kind of frittata, or crustless quiche, formed into individual servings through a muffing pan rather than a full dish. The full recipe below will make a dozen frittata-muffins packed with egg and kale goodness. They're full of protein to keep you energized and happy throughout the day, and the kale is a nutritional bombshell full of vitamins and minerals for you.
Frittata Muffins
8 Eggs
.33 Cup Non-Dairy Milk
1 Clove Garlic, Minced
.25 Tsp Dijon Mustard
.5 Tsp Salt
3 Tbsp Dill
3 Kale Leaves, Stems Removed and Shredded
1 Cup Cherry Tomatoes, Halved
.25 Cup Scallions
.33 Cup Feta
Pepper to Taste
Set your oven to 350 degrees and grease your muffin tin. You don't need muffin cups for this, though you could use them if you wanted. In a bowl, whisk up the eggs, along with the non-dairy milk (Almond, Soy, and Rice milks are all great here), garlic, mustard, and dill.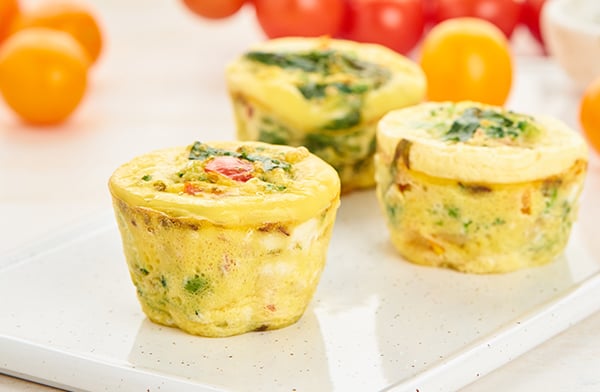 Pour the egg mixture into the muffin cups, spreading it evenly across a dozen cups, using about half of the egg mixture. Next, add the feta, tomatoes, kale, and scallions to the muffin cups. Finally, top with the remaining egg mixture. Bake for 20-23 minutes until the eggs firm up, garnish with a bit more dill and a bit of salt and pepper, and enjoy.
These little muffin cups work great as a savory breakfast or a lunch snack, or even as part of a more robust dinner. The kale is hard to even notice since most of the flavor comes from the eggs, dill, and scallions. You might even forget there's kale in the recipe!
#5: Smoothies
You had to know this one was coming, right? After all, smoothies are my whole deal. I couldn't very well give you a list of ways to eat an ingredient and not give you a smoothie, right?
Below, I'm going to list one of my favorite smoothie recipes. However, I have dozens more in the Smoothie Diet, just waiting for you to check them out. Pretty much all of them use a handful of greens. As I mentioned above, I don't recommend kale all the time, but instead switching between several different greens. Kale is just a good place to start.
Tropical Blast Smoothie
1 Cup Coconut Milk
1 Bunch Kale, Stems Removed
1 Mango
.5 Cup Frozen Pineapple Chunks
2 Tbsp Coconut Flakes
With smoothies, the blending order is critical.
Add your coconut milk, then your coconut flakes, then your kale to your blender. Blend until they're smooth. Then, add your mango and pineapple, and blend again until you've reached the texture you prefer.
The trick with kale is to make sure you've blended it up as much as possible first before then blending in the other ingredients. That way, you won't end up with stringy bits or chunks of kale to make your smoothie less palatable.
This recipe is great because mano and pineapple are both strong flavors, and the coconut does a good job of masking the earthiness of the kale, so you'll never even realize there's kale in the smoothie. The only way you'll know there are greens in it is the color, really.
If you want more smoothie recipes, as well as a ton of great advice, check out the Smoothie Diet. My PDF has a ton of useful advice, recipes, recommendations, and more, yours for the taking. Why not check it out?
Have you tried out any of these healthy and delicious recipes? Is there one that catches your eye more than others? Do you have a personal favorite recipe that you think should be added to this list? If so, be sure to let me know! I'd love to hear all your thoughts and would be more than willing to add additional recipes to the list if need be!